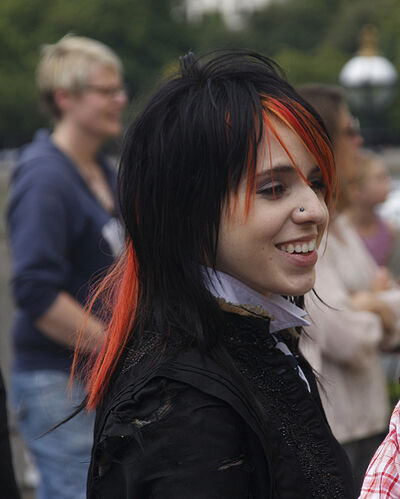 "You shouldn't fear death. Cause death is just like life. But with all the crap bits taken out. Like poverty, fascism and Miley Cyrus!"
―Zoe
Zoe
is the head Emo in the second St Trinians film. She is close to other Emo Beth.
Actress, Montserrat Lombard, Replaced Singer/Actress Paloma Faith, Who potrayed head emo Andrea  in the first film and Montserrat replaced the character aswell as the actress.
Zoe shows only one emotion other then misery in the film when Roxy showed the girls that they had gotten the ring, Zoe smiled and laughed.
Zoe hates Miley Cyrus and (Like all the emo's) sleeps in a coffin.