St Trinians 1 Banned or St Trinians
Edit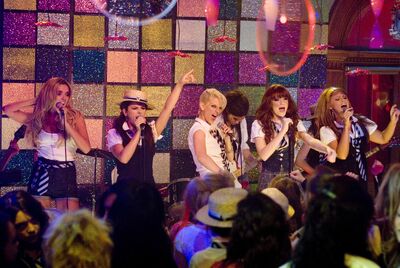 The Banned or St Trinians was a band who where formed by the St Trinians girls. In the first St Trinians pop girl band
Girls Aloud
potrayed the girl band and performed the St Trinians theme song at the end of the film. Girls Aloud did not return as the Banned of St Trinians for the second film
St Trinians 2 Banned of St Trinians

Edit
The Banned of St Trinians is the band that play for St Trinians school. The 'Banned' members are The Eco Daisy, the Emo Beth, The Rudegirl Jess and Harriet the geek. they always sing for St Trinians. the songs they have been seen singing in the movie are: St Trinians theme song, We got the beat, I Can get what i want and Jump off.
Ad blocker interference detected!
Wikia is a free-to-use site that makes money from advertising. We have a modified experience for viewers using ad blockers

Wikia is not accessible if you've made further modifications. Remove the custom ad blocker rule(s) and the page will load as expected.