Lord Pomfrey was the sexist captain of a ship plundered by Captain Fritton (a woman pirate dressed as a man).
T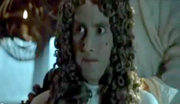 his was something that Lord Pomfrey had discovered when he was tied to a chair by Captain Fritton as Fritton's pirates plundered Lord Pomfrey's vessel.
His descendant appears as the main baddie later in the film
Portrayed by David Tennant.
Ad blocker interference detected!
Wikia is a free-to-use site that makes money from advertising. We have a modified experience for viewers using ad blockers

Wikia is not accessible if you've made further modifications. Remove the custom ad blocker rule(s) and the page will load as expected.