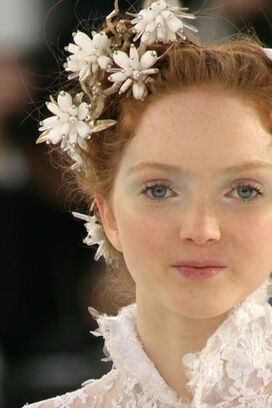 Lily Luahana Cole (born c. 27 December 1987) is an English model and actress. She is listed by Vogue Paris as one of the top 30 models of the 2000s, and having studied acting since her childhood took to her first lead role as Valentina in Terry Gilliam's fantasy film, The Imaginarium of Doctor Parnassus in 2009.
She was booked for her first British Vogue cover at age 16, and has worked with many well-known brands, including Vogue worldwide, Alexander McQueen, Chanel, Louis Vuitton, Jean Paul Gaultier, Marc Jacobs, Prada, De Beers and Moschino. Cole has featured in several well-known publications, including Vogue (US, UK, Italy, Japan); other clients include Numero, V, Pop, Dazed, Citizen K, Christian Lacroix, Chanel, Hermès, Galliano, Louis Vuitton, Jean Paul Gaultier and Marc Jacobs. Advertising campaigns include Longchamp, Anna Sui, Hermès, Moschino, Prada, Chanel, Cacharel and Moschino. She has a lucrative cosmetics contract with beauty brand Rimmel London and can be seen in TVC and print advertising as part of her work with them, attracting controversy in 2008 by appearing naked in a pictorial for Playboy's French edition.
She appeared in advertisements for companies such as high street retailer Marks and Spencer. She is passionate about fair-trade and sustainability in business and only works with brands that follow the same ethos, doing her research before committing to modeling campaigns. For example, when she was asked to be the face of De Beers, Cole went to the Kalahari to see for herself the work their charity was doing. Her modeling career was launched by a chance encounter with Benjamin Hart in Soho when she was 14 years old. After several minor acting roles, starting with St Trinian's in 2007, Cole's first leading role was as Valentina in the 2009 film The Imaginarium of Doctor Parnassus, in which she starred alongside Heath Ledger, Johnny Depp, Colin Farrell and Jude Law. Her other film work includes a short directed by Shekhar Kapur called Passages, and There Be Dragons, directed by Roland Joffe. In June 2011, she was awarded a Double First in History of Art at the University of Cambridge.