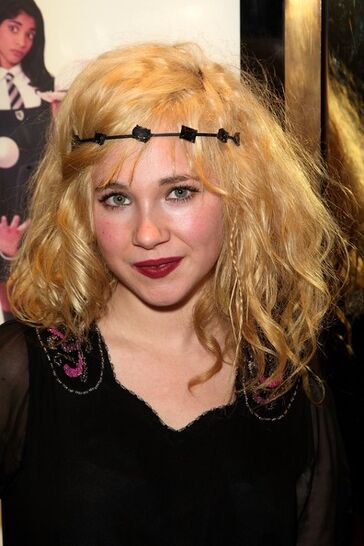 Juno Violet Temple (born 21 July 1989) is an English actress. She has starred in films such as Dirty Girl, St Trinian's, and most recently The Dark Knight Rises and Killer Joe.Juno Temple was born in London, and is the daughter of producer Amanda Pirie and film director Julien Temple. She grew up in Somerset, England and attended Enmore Primary School, Bedales School and King's College, Taunton. She has two younger brothers, Leo Temple and Felix Temple.Temple began her career as a child actress in the 1997 film Vigo: Passion for Life, a film about Jean Vigo. Another film directed by her father starred Juno in 2000 when she played Emma Southey in Pandaemonium.
She has won critical praise for several supporting roles. She auditioned to play Luna Lovegood in Harry Potter and the Order of the Phoenix, but lost out to Evanna Lynch. Some of her other film credits include Celia in St. Trinian's and St. Trinian's II: The Legend of Fritton's Gold, Drippy (Jennifer Logan) in Wild Child, and Jane Parker in The Other Boleyn Girl. In 2009, Temple starred as Eema in the comedy Year One alongside Jack Black and Michael Cera. She also played Anna in Jaco Van Dormael's Mr. Nobody and Di Radfield in the adaption of Sheila Kohler's Cracks. She starred in Abe Sylvia's Dirty Girl, which premiered on 12 September 2010, at the Toronto International Film Festival, co-starring Milla Jovovich, Jeremy Dozier, William H. Macy, Mary Steenburgen and Tim McGraw. Temple has also appeared in Kid Harpoon's music video "Milkmaid" and Plushgun's "Just Impolite". In 2010, she appeared in an sketch for FunnyOrDie called "Cycop" which premiered on 12 July 2010 and featured the protagonist, from the indie film The Mother of Invention in a poorly made film of his creation. The sketch starred Temple, Andrew Bowser, Ryan Cartwright and Zelda Williams. She also had a major role in the film Kaboom, first winner of the Queer Palm. In 2011, Temple appeared in Paul W.S. Anderson's 3D film adaption of The Three Musketeers, as Anne of Austria, the Queen Consort of France. The film also starred Matthew Macfadyen, Logan Lerman, Orlando Bloom, Milla Jovovich, Christoph Waltz, and Mads Mikkelsen. She appeared in The Dark Knight Rises (2012), as a "street-smart Gotham girl. She will portray Diane in the lesbian lycanthropic tale Jack & Diane.
Ad blocker interference detected!
Wikia is a free-to-use site that makes money from advertising. We have a modified experience for viewers using ad blockers

Wikia is not accessible if you've made further modifications. Remove the custom ad blocker rule(s) and the page will load as expected.