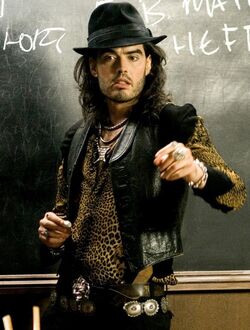 Flash Harry is a fictional character from the St. Trinian's series of films who first appears in the 1954 The Belles of St Trinian's and who may also be a spiv.
In the St Trinian's movies, Harry is a long-term associate of the girl pupils, a Cockney involved in all sorts of shady dealings. His father sold racecards and, when he was 12, Harry himself was employed as a boot polisher by Miss Fritton, headmistress of St Trinian's.
As an adult, Harry is one of the few whom the pupils trust: he helps to bottle and sell their gin, distilled in the school chemistry lab, and places bets on race horses for them. Harry also runs the St Trinian's Matrimonial Agency for the teenage Sixth Form girls, setting them up with wealthy men. He even runs a betting scam of his own.  Flash has a large crush on Kelly Jones, head girl. Kelly, however, uses this to her advantage.