The Emos are one of the many stereotypes in the School. They are often seen in dark clothing,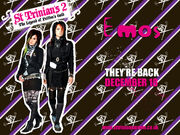 sloppily dressed, ect. They tend to sleep in coffins with their hands crossed over their chests. In the second film, they arrive at school in a funeral car.
When called 'Goths', they will object strongly, even though they share many traits with them. They will say that they are " 'Emo'tionally Challenged".
Notable members of the Emos
Edit
Ad blocker interference detected!
Wikia is a free-to-use site that makes money from advertising. We have a modified experience for viewers using ad blockers

Wikia is not accessible if you've made further modifications. Remove the custom ad blocker rule(s) and the page will load as expected.