Celia is a girl of St Trinian's school who appears in both of the films. She is originally shown as being a Trustafrian in the first film, however in the sequel she is classed as an Eco.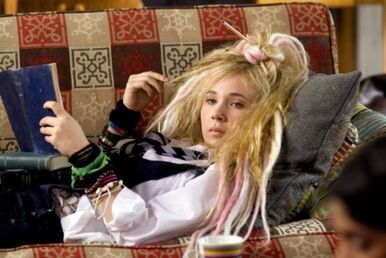 Celia always looks hazy as if she'll drop over in a faint any second. Her hair is blonde dreadlocks with multicoloured streaks and she wears a vast collection of woven bracelets with her uniform. She is hinted to be rich and was most likely to be shopping with her mum looking embarrassed.
She is very aware of the global warming going on in the second St. Trinian's film, when she found Pirate Fritton's ring. She was contacted to steal the rings and wanted the reward of £20,000 to buy wind turbines, supposedly to stop the ice caps from melting.
Celia's ringtone is dolphin clicks and calls. She had the idea of giving magic mushrooms to the boys for School Challenge.
Celia is portrayed by Juno Temple
Celia is also a character in The Belles of St.Trinian's portrayed by Pauline Drewett